On the Grid Web Design LLC
Founded in 2014, On the Grid Web Design keeps you or your business on the grid, even when you're not. We offer many services such as web design, eCommerce, website repair and web application building. We also offer programming services such as custom WordPress plugin and themes, database setup and custom backends for your site.
Chris Hood – Software Engineer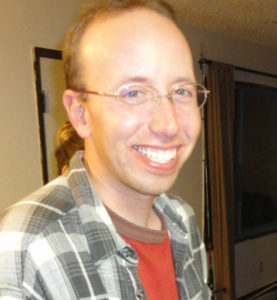 Chris is a software engineer and web developer who can build all kinds websites and apps. He uses the latest technologies to design and update websites and make them responsive and mobile friendly. He has been programming for longer than he can remember. He has also been creating videos recently from some of his bike rides.
If you have a website that is not acting right, he can fix it.
Languages
HTML 5
CSS
Javascript
PHP
SQL
Dart
Java
C++
Libraries…
Code Igniter
Websockets
Flutter
jQuery
Ajax
VTK
Content Management Systems
WordPress
Modx
Joomla
Drupal
Magento
Testimonials
"Chris is an outstanding developer who has provided invaluable technical expertise on our projects together. His dedication to the quality of his work, and his attention to the end user experience, have been key to major improvements in both the Archives database and associated website." – Andrew Rabkin (Sundance) via LinkedIn
"I had the pleasure of working with Chris at Dollar Signs and Graphics in South Lake Tahoe. He is a very knowledgeable, efficient, and hardworking web developer. Chris was always easy to communicate with about projects and always had a great attitude. He made the daunting task of developing my front end websites a very easy and manageable task. He never gave up and was always able to figure out even the trickiest coding problems. I thoroughly recommend him!" – Megan Harrigan via LinkedIn
"We hired Chris to do some WordPress development work for our suite of websites. He has provided us with excellent HTML/CSS and programming work on those sites. We then asked him to do some bug fixes on our Magento eCommerce site, and he completed that work for us after a quick crash course in Magento. Finally, he has also contributed to some of our mobile initiatives. He has always completed his assignments in a reasonable amount of time and is professional and easy to work with." – Alex Gross via LinkedIn
"Chris is local in Park City and has great WordPress experience as well as other related programming needs." – David Greenholtz via LinkedIn
" Chris is a solid programmer and web developer. He stays ahead of the curve with his design skills and abilities and can work with extremely complex code. His ability to write his own php code and develop websites using database integration make him a tremendous asset to my company and to his clients. I really enjoy working with him knowing that he listens and takes direction very well and can take a project from concept to completion with minimal direction and assistance required. He knows what to do and his level of expertise and initiative grant him the ability to solve any problems he encounters on his own." – Yan Campbell via LinkedIn