Business Listings WordPress Plugin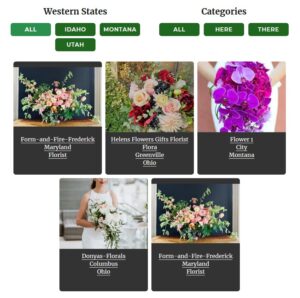 This plugin allows you to display listings of businesses in boxes which show an image, the business name, city and state. Visitors can click on optional region or category boxes to filter out businesses not in the region and/or category the are looking for. The regions and categories can be set by the user.
It is free and in the WordPress Plugins directory.
Features
Shortcode for showing the listings
Buttons allowing site visitors to select the region and category (if used)
Each listing gets an image along with a city, state, website, category and region.
Listings can be deactivated
Regions and categories are set by the user
There is an setting for what to call the regions
Shortcode Usage
Shortcode: [otg_business_listing]
Options: There are no options in the shortcode, all settings are on the plugin's options page. You can show/hide region and category buttons and the name for the regions button.
FAQ
How do I change the name of a region or category?
In the list, set the bulk selector action to "Rename". When you edit a name, that line's checkbox will be automatically checked. If you uncheck it, that line will not be updated when you hit "Apply".
Can I change the button color?
Right now you have to override the colors by CSS. In a future version it'll be in the options.